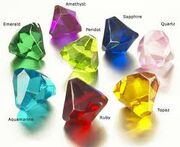 Hades' Cabin

Powers:

Power over Jewels, can raise the dead, can shadow-travel

Camper Status:

Medium amount
Cabin for the immensely powerful children of Hades. Campers in this cabin attract jewels and can use the dead very well. They are:
Mitchell Benson (head counselor)
Devan Hall
Melanie Clark
Joel Skinner
Max Johnson
Bobby Underton
Ad blocker interference detected!
Wikia is a free-to-use site that makes money from advertising. We have a modified experience for viewers using ad blockers

Wikia is not accessible if you've made further modifications. Remove the custom ad blocker rule(s) and the page will load as expected.